Stunning staircase design and construction in Camden, London
The staircase of a building not only provides vertical access but is an important feature of the overall design of the space. Often one of the first features you will see, it has the ability to transform any residential or commercial space. Working throughout Camden, Primrose Hill, Highgate, or the nearby areas of London, we are staircase specialists.
Expert in-house staircase designers in Camden
We have been designing, supplying, and installing made-to-measure staircases for many years. Our personal and bespoke, end-to-end staircase installation service is always designed around your property, space, or budget. We use seven innovative models that can be customised by our staircase designers to suit your exact needs. This includes material choice, balustrades, treads, and other features. We can offer you a bespoke quotation at any time.
Staircases can include everything from simple straight oak staircases to curved helical or elliptical stairs constructed from metal. We use 3D rendering so you can see exactly how your new staircase will look in your home or commercial property. Any adjustments can be made then and it can really show the possibilities of the space and give an insight that cannot be offered by 2D drawings. You will see exactly what you are paying for.
Alongside staircase design, we offer a wide range of architectural services. Our interior designers can complete all types of design services and can even design and produce bespoke metal furniture to fit your extension or home.
For more details, please call us now on 020 8004 9635.
Designer staircases for made-to-measure stairs near Primrose Hill
When it comes to re-designing your staircase in Primrose Hill, Camden, or Highgate. This can be the perfect opportunity to allow more light into the room and awkward layouts can sometimes for completed by unlocking the position and configuration of the stairs. We can bring old and tired stairs back to life, install stairs into new-builds and re-design stairs so they make the best of the available space. Please see our blog on introducing modern staircase design.
Our staircase designs include a whole range of options. We can work in any type of property and create staircases to any specification, including premium staircases made from scratch.
We design and construct staircases of all descriptions, including:
Residential staircases
Replacement staircases
Luxury staircases
Feature staircases
Retail staircases
Commercial staircases
Internal staircases
External staircases
Glass and oak staircases
Straight staircases
U-shaped staircases
L-shaped staircases
Central spine staircases
Cantilever staircases
Made to measure stairs
Designer stairs
Timber staircases
Helical staircases
Premium SW1 staircases designed and installed
We work closely with our clients, who each have a different vision for their staircase. Our staircase specialists can help to turn your vision into reality. The design of your stairs is one of the most important stages. From period homes to modern offices, any space can be dramatically installed with the right stair design. See our gallery.
Main types of stair design include:
Central spine: These stairs have a central support system that run down the centre of the stairs, like a spine. These stairs do not require a supporting wall but have open risers and appear like floating stairs.
Floating stairs: Sometimes called cantilever stairs, these stairs are attached to the wall but have not risers, which makes them look like they are 'floating' in mid-air.
Zig zag stringer: These stairs have a continuous run of treads, risers, and stringers and are popular in new build homes.
NW1 staircase company for made-to-measure bespoke stairs
We aim to offer a tailored and personal staircase design experience in Camden that you would never receive elsewhere for the same price. We encourage prospective clients to get in touch with us at the earliest stage, even if you are just thinking about staircase design. One of the most important first steps is to decide on a budget, as this is an essential factor when it comes to designing your stairs. Our stairs start from £9000 with additional costs for extra features. It is also important to consider the cost of demolition and disposal of any existing staircase.
The next decision in the process centres around staircase materials and design. Our staircase manufacturers can work with you to find the right solution for your needs. It is always worth bringing design ideas to any consultation so you can show our staircase specialists your ideas. The space and available head height may dictate the possibilities and limitations of your staircase. The most common shapes for stairs are straight, L and U-shaped stairs and spiral and helical stairs. See our gallery for examples.
We design and build bespoke staircases in Camden. Styles include:-
Spiral and helical staircases designed and installed in Camden
Are you looking for designer stairs in Camden? Our spiral and helical staircases offer a luxury look and stunning appeal. The difference between these types of stairs is that spiral staircases are designed around a central pole, whereas helical stairs, which are sometimes called curved stairs, do not have a central column. See our FAQs.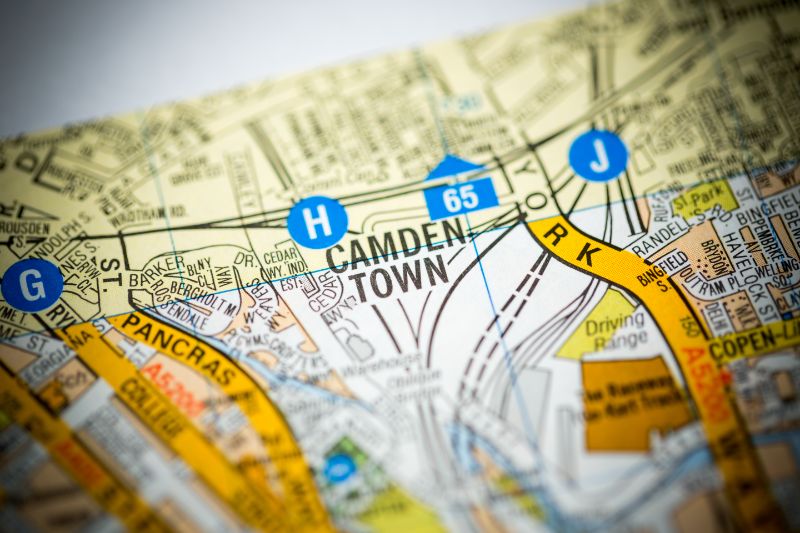 Staircases designed and installed in :-
Camden Town
St. Pancras
Highgate
Finsbury
Holloway
Highbury
Islington
Hampstead
Holborn
Bloomsbury
To book a staircase design consultation in Camden, get in touch
If you are thinking about installing a bespoke staircase in Camden and want to know more about your options, please call our local staircase company. We can be reached on 020 8004 9635 or drop us an email at sales@ddclondon.co.uk