Designer stairs planned and constructed in Chelsea, London
At DDC London, we have a proven track record of designing and constructing beautiful staircases in Chelsea, Battersea, or Kensington. Our bespoke staircases are perfect for all types of buildings throughout London from contemporary offices to period houses. Our staircases are all unique and individual to your tastes, property, and budget.
Expert in-house staircase designers in Chelsea
Our creative stair-makers can complete a whole range of stairs and will always enhance the environment. From space-saving helical and elliptical stairs for small period homes to oak and glass floating staircases for shops and hotels, our staircase company offers a comprehensive and helpful staircase service. From initial planning and ideas through to construction and beyond, we provide a first-class service.
Stairs can be much more than simply accessing another level. They can be the main feature of your property and we can work with you to create a staircase that will enhance the space and the property it is in. The combination of designs and materials we can use is endless.
We can design and build all types of stairs, including:
Commercial staircases
Internal staircases
External staircases
Glass and oak staircases
Straight staircases
U-shaped staircases
L-shaped staircases
Central spine staircases
Metal staircases
Timber staircases
Helical staircases
Cantilever staircases
Made to measure stairs
Replacement staircases
Luxury staircases
Feature staircases
Retail staircases
Designer stairs
We are available for a no-obligation staircase design consultation. We can work with new and existing spaces and will always complete end-to-end service. To speak with our team, please call now on 020 8004 9635.
Stunning staircase design near near Battersea
At DDC London, every staircase that we design and install is different. Working throughout Battersea, Chelsea, or Earl's Court we will work with you, so we can offer you the very best in staircase design, including the materials used, to give you a beautiful staircase.
Staircase designs include:
Oak staircases: Oak and glass staircases create beautiful and contemporary stairs. Often these are designed as cantilever or floating stairs. Read our blog on adding detail to floating staircases.
Curved staircases: For a bespoke design, curved staircases are sleek and unusual. These can be built from a variety of materials and offer infinite options. Helical or elliptical stairs are ideal when space is short and create a beautifiul design feature.
Zig zag stairs: Created in many materials including steel and wood, these stairs offer a striking design and endless possibilities.
Central spine: These stairs have central support and do not need a wall to sit against.
Why choose our SW3 staircase company?
We may associate staircases with a practical purpose but the truth is they have the power to make or break the style and look of a property. Here at DDC London, we design staircases and that is and has always been, at the heart of our business. It can be hard knowing where to start when you need new stairs, and our designer should be your first port of call. We aim to offer a personal service and expert design for a fraction of the cost of hiring a designer. We use a series of models that can then be customised to your unique requirements. We use 3D rendering to bring your ideas to life, so you can see exactly how they look.
We strive to make quality staircases more affordable and our designs start from just £9000. Many people like simple and straightforward designs and this will keep the cost down. You can also choose from a palette of 150 RAL colours to find the perfect option for you.
Glass staircases in Chelsea
Glass staircases can add a modern look to any home or commercial property and allow a wonderful flow of natural light. Sometimes people choose glass balustrades with wooden or metal stairs for a contemporary look.
As well as our staircases models, we also offer premium staircases and offer a comprehensive design and build service. Our team of project managers and builders always deliver projects of the highest standards. See our FAQs.
We design and build bespoke staircases in Chelsea. Styles include:-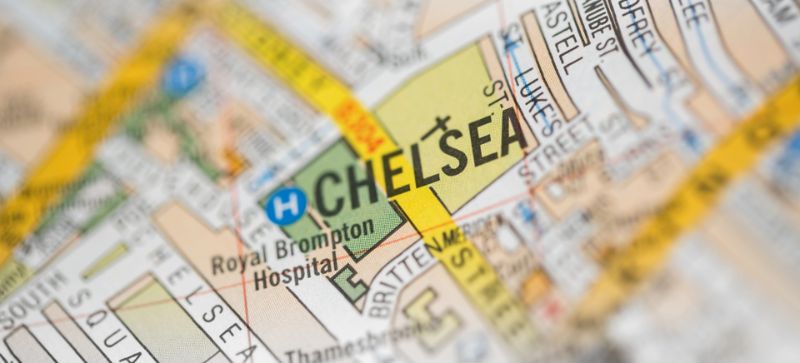 Staircases designed and installed in :-
Pimlico
Abbots Manor
Buckingham Palace
South Kensington
Are you looking for a new staircase installation in Chelsea? Call our team now
Do you need help with a residential or commercial staircase in Chelsea? Please call us now on 020 8004 9635 or email sales@ddclondon.co.uk