High-end designer staircases in Knightsbridge, London
Here at DDC London, we can design and install bespoke staircases that seamlessly blend with your property in Knightsbridge, Belgravia, or Pimlico. We are renowned for professional staircase design and we are regularly commissioned by private and commercial clients to bring them the best in staircase design.
Our bespoke staircases are designed around you and your property. This is our sole focus and we offer high-end designer stairs without the need to hire a separate architect. If your new staircase installation is part of a property renovation, we also offer a design and build service.
Expert in-house staircase designers in Knightsbridge
Our bespoke stairs are designed around your space, preferences, and budget. From simple straight stairs, or U-shaped and L-shaped stairs through to our premium stairs such as elliptical stairs, floating staircases, and curved staircases, our staircase company can complete your new stairs from initial design through to completion.
Our bespoke staircases are designed right down to the smallest details. Many of our clients will use one of our main models and then customise it to their needs, including balustrades, handrails, materials, colours, and extra stairs. We can also complete designs from the ground up for complex spaces or grand architectural statements.
To speak with our experienced stair designers or to book a no-obligation stair design consultation, please call us now on 020 8004 9635.
Bespoke staircase manufacturers near Belgravia
Here at DDC London, we work throughout Belgravia, Knightsbridge, or Abbotts Manor to bring our clients the very best in staircase design and installation..
Competitive and cost-effective stair design: We aim to ensure our clients receive a truly bespoke and affordable service without the need to access different design and installation services.
Experienced designers: We come with a wealth of experience, so we can advise you about the right stair designs for your property. Staircases are not merely functional and a means to get from one floor to another but they can transform any space making it look bigger and brighter and we can design staircases that become a central architectural feature in a room.
Personalised service: We work with our clients to bring them a personal service. We collaborate carefully with our clients and work closely with them through every stage of the process, so we can ensure 100 per cent satisfaction with every installation
Flexible designs: We aim to make the process of designing new stairs simple and hassle-free. Using our models can often be an excellent starting point. It is also essential that you know your budget. Our stair designs start from just £9000.
We can design stairs of all descriptions, including residential staircases, commercial staircases, internal staircases, external staircases, glass and oak staircases, straight staircases, U and L-shaped staircases, metal staircases, timber staircases, helical
Staircases, cantilever staircases, and more.
Premium SW1 staircases designed and installed
We work closely with our clients, who each have a different vision for their staircase. Our staircase specialists can help to turn your vision into reality. The design of your stairs is one of the most important stages. From period homes to modern offices, any space can be dramatically installed with the right stair design. See our gallery.
Main types of stair design include:
Central spine: These stairs have a central support system that run down the centre of the stairs, like a spine. These stairs do not require a supporting wall but have open risers and appear like floating stairs.
Floating stairs: Sometimes called cantilever stairs, these stairs are attached to the wall but have not risers, which makes them look like they are 'floating' in mid-air.
Zig zag stringer: These stairs have a continuous run of treads, risers, and stringers and are popular in new build homes.
Residential and commercial staircases in Knightsbridge
Are you looking to design new stairs for a home or commercial space in Knightsbridge? Our stairmakers use advanced 3D rendering software that allows us to show you what your stairs will look like in situ. This always offers a far superior and realistic view when compared to 2D drawings.
Read our blog on introducing modern staircase design.
We design and build bespoke staircases in Knightsbridge. Styles include:-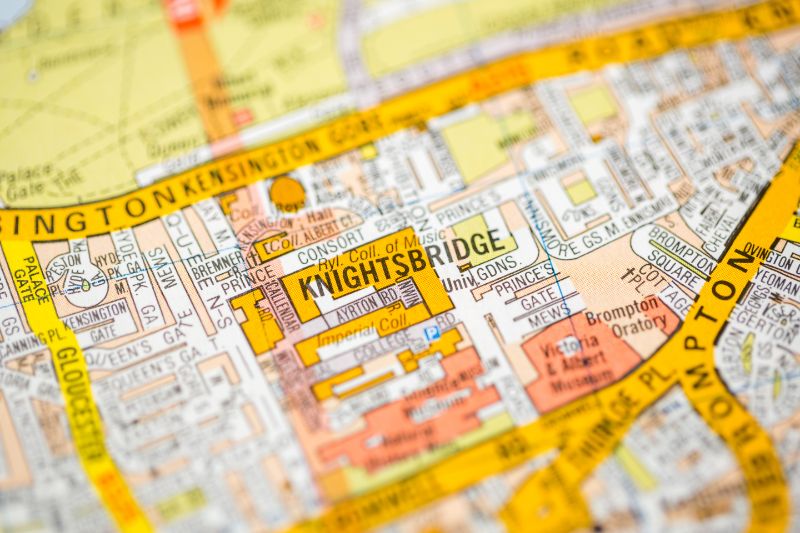 Staircases designed and installed in :-
Pimlico
Abbots Manor
Buckingham Palace
South Kensington
For luxury staircases in Knightsbridge, call our staircase company
We would love to hear about your staircase project in Knightsbridge. Please call us now on 020 8004 9635 or email sales@ddclondon.co.uk and we will get back to you.