Leading staircase architects and staircase designers in Guildford, Surrey
Are you looking for beautiful and contemporary staircases designed for your residential or commercial property in Guildford, Godalming, or Clandon? DDC London is a team of professional staircase designers and architects who can design every type of bespoke staircase at a fantastic price.
We combine high-end design with precision engineering and an eye for thoughtful detail. So, whether you are looking for a grand and sweeping staircase in a huge hallway of a grand house or a spiral steel staircase for a modern apartment or office, we are perfectly placed to turn your vision into reality.
Expert in-house staircase designers in Guildford
Our staircase company has created a variety of core designs, which can then offer you a full level of customisation, so you can personalise your staircase through colour, material, or other choices. Having these designs in place allows our staircase company to offer an amazing choice and cutting-edge design at an affordable cost. We can also design and build premium staircases from scratch.
Our main specialism is staircases but this can also form part of a wider design and build project. Our architects follow ARB's professional code of conduct and the RIBA (Royal Institute of British Architects) plan of work.
We encourage potential clients to get in touch with us as early in the process as they can to discuss their stair building ideas. To speak to our stair experts, please call us now on 020 8004 9635.
Bespoke staircases designed and constructed near Godalming
We take pride in every staircase that we design and build in Godalming, Guildford, or Stoughton. Our stair designers pay unrivalled attention to detail and can tackle projects of all sizes. We project manage every staircase installation from planning and design through to completion. For some examples of work that we have recently completed, please see our gallery.
We can create many different styles of staircases, including:
Internal staircases
External staircases
Metal staircases
L-shaped staircases
Central spine staircases
Luxury staircases
Retail staircases
Timber staircases
Helical staircases
Replacement staircases
Feature staircases
Glass and oak staircases
Straight staircases
Cantilever staircases
Bespoke stairs
Residential staircases
Commercial staircases
Made to measure staircases
Designer stairs
Cantilever staircases
U-shaped staircases
Concrete staircases
Affordable staircase manufacturers and staircase installations in Guildford
At DDC London, we can design, supply, and install beautiful staircases for the home or workplace. Working in a range of materials, including steel, oak, glass, or timber, we can produce affordably priced stairs for all. Every detail is crafted to offer beauty, elegance, and functionality. We believe that our work speaks for itself and much of our work comes from word-of-mouth recommendations.
As soon as you start thinking about new stairs, please get in touch to organise a staircase consultation. We can talk through your ideas, make recommendations, and show you previous examples of our work. It is essential to know exactly how much budget you have for your new stairs as this may inform some of your decisions. Read our blog: How to choose a bespoke staircase design for your home.
We work with the latest 3D technology and modelling so you can see how our stairs look in situ and to ensure structural stability.
Guildford staircase company for metal stairs
Metal staircases offer a clean and contemporary look for properties in Guildford. They offer a raft of benefits, including:
Metal staircases offer flexibility and versatility of style and material, including mild steel, stainless steel, and brass. Each of these materials has different characteristics, so may suit different models.
Metal has a neutral tone, so can be combined with other materials, such as timber and glass, to produce a stunning visual appearance and modern design aesthetic.
Infinite options for tread and balustrade design using special computer-aided software to create logos, motives, and patterns and to turn the staircase into a stunning work of art.
We design and build bespoke staircases in Guildford. Styles include:-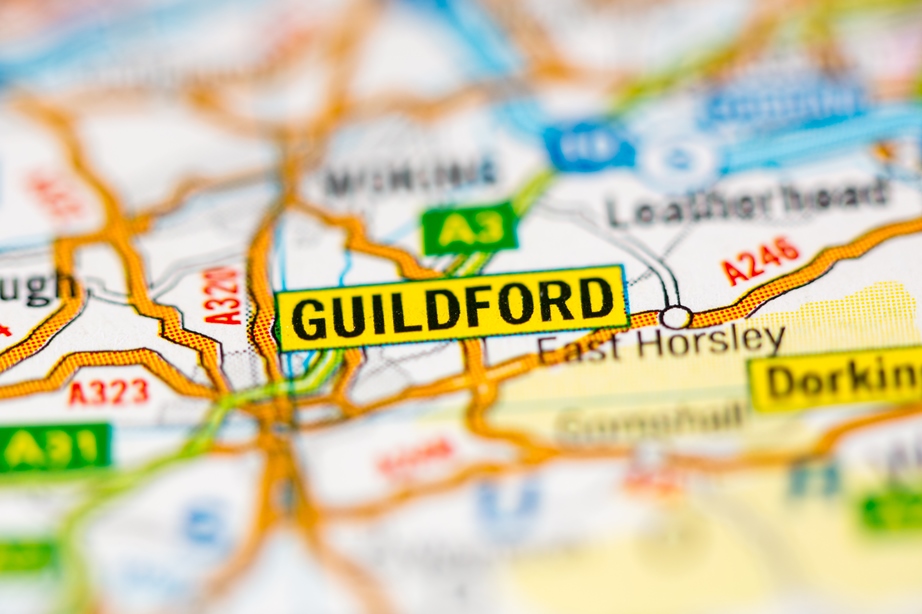 Made to measure staircases designed and installed in :-
Stoughton
Merrow
Shalford
Chilworth
Clandon
Send
Worplesdon
For stunning and affordable staircases in Guildford, book a staircase consultation today
We want to know exactly what you are looking for from your staircase in Guildford. Call now on 020 8004 9635 or email sales@ddclondon.co.uk and we can book a consultation free of charge, with no obligation to proceed.