Premier designers of bespoke staircases in Leatherhead, Surrey
Here at DDC London, we are a team of experienced staircase architects and designers who can turn your staircase ideas in Leatherhead, Fetcham, or Stoke d'Abernon. From small residential U or L-shaped stairs through to beautiful helical stairs, we provide a professional, cost-effective, and expert staircase design and build service.
Exclusive and bespoke staircase design is at the heart of our company. We offer our clients luxury staircases designed and constructed for both residential and commercial properties and can see any project through from start to completion.
Expert in-house staircase designers in Leatherhead
Are you wondering what your stairs might look like once they have been installed? We use special 3D rendering to bring your stairs to life. Just a simple change of tone of colour can give your stairs a different feel and our technology allows you to alter this before installation. We have a clear and defined staircase design and build process and can guide you every step of the way.
Would you like to hear more from our local staircase designers? Please call now on 020 8004 9635.
Made to measure staircases constructed near Fetcham
Why is staircase design in Fetcham, Leatherhead, or Ashtead so important? We often think about staircases purely with their practical purpose from getting from one floor to another and it is only when we see a stunning staircase that we realise their potential to change the style and proportion of the building.
At DDC London, we believe staircases are the most important feature in any home or commercial building because they are vital to the building both structurally and in their design and they can have a huge impact on how the space feels. Staircases have many different components and how these fit together can affect how your stairs both look and feel.
Many of our clients start any staircase project by thinking about one of our standard stair designs. This can then be tailored according to the budget, size of the property, and other factors. Stairs may vary considerably according to their price and the scale of the project. We can also design premium staircases, which are completely unique. See some of our work for inspiration and ideas.
Stair designs in Leatherhead
There are countless staircases to choose from in Leatherhead that might suit your property and our staircase architects will be able to discuss the options with you.
The main materials include metal staircases, that are increasingly popular within residential design. Giving an industrial look, these stairs can offer an individual design feature and they can also be installed quickly and easily.
Classic timber staircases also offer huge advantages, as well as a warm and cosy aesthetic. Timber can age faster than other materials so will require more maintenance and installation is more specialist so it can take more time.
The other main material for stairs is concrete stairs which can be supplied and installed in sections. The lead times for these stairs is longer than others, so this must be given consideration.
Other stair designs include:
Internal & external staircases
L-shaped and U-shaped staircases
Central spine staircases
Luxury staircases
Retail staircases
Helical & spiral staircases
Replacement staircases
Zigzag staircases in Leatherhead
Feature staircases
Glass and oak staircases
Straight staircases
Cantilever staircases – read our blog on: What are cantilevered staircases?
Residential & commercial staircases
Made to measure staircases
Designer stairs
Cantilever staircases
Leatherhead bespoke staircases: What is the cost?
Many people may consider changing their stairs but worry about the cost. We use a number of core models, which can then be customised through a choice of material, size, balustrades, and more, and this keeps the cost of the stairs down. A simple metal staircase, for example, starts from just £9000. Every staircase is individually designed, constructed, and installed to meet your exact requirements.
We have a keen eye for detail, so your new stairs will not only look stunning but will last a lifetime. We are happy to advise about budget and cost immediately, so book a consultation now. See our FAQs.
We design and build bespoke staircases in Leatherhead. Styles include:-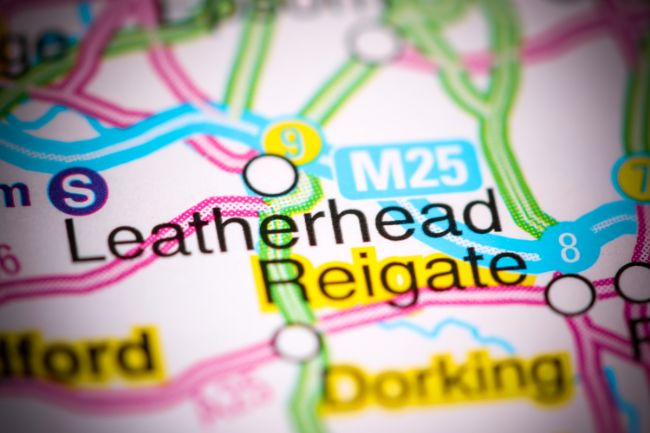 Made to measure staircases designed and installed in :-
Oxshott
Bookham
Stoke D'abernon
Great Bookham
Little Bookham
For contemporary staircase design and build in Leatherhead, call us now
Do you have questions about staircase design in Leatherhead? Please call 020 8004 9635 or email sales@ddclondon.co.uk