If you live in a house with more than one floor, a staircase is – of course – inevitable. However, when it comes to designing one yourself, you may become curious about the different parts involved, what they are called, and how they come into play. Staircases are also subject to building regulations, which will of course come into play during the design process.
As expert staircase designers and engineers, we know a thing or two about the different parts involved when building a staircase, which is why we have compiled this go-to quick guide on the anatomy of staircases and what parts to expect in your chosen staircase design.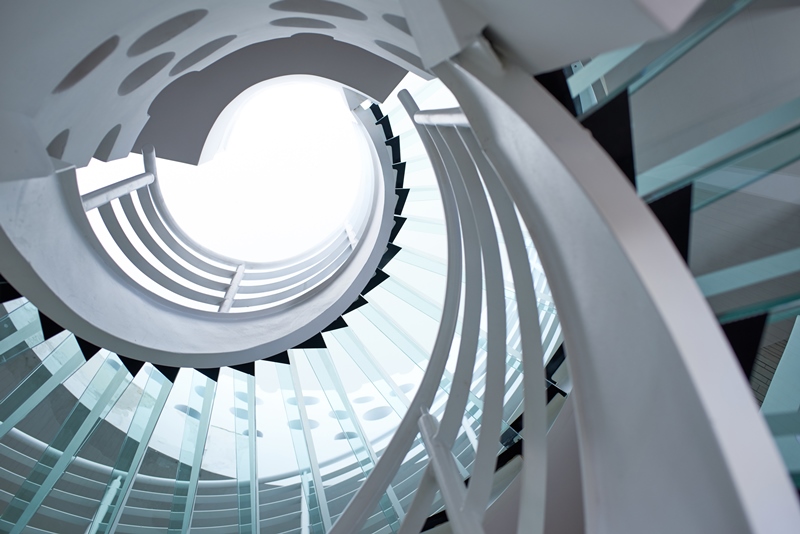 What parts does a staircase have?
A traditional staircase has parts called treads, risers, and nosings. The tread is what you step on as you go up or down the stairs, the riser is the upright at the bottom of each step, and the nosing is the part that hangs over the top of the riser. The nosing is commonly rounded or bullnosed – but not always, particularly where more modern designs are concerned.
Staircase bannisters explained
Another important part of a staircase, and often one that makes the design statement, is the banister. The banister is what you hold onto as you walk up or down the staircase, and it has many different parts to it, including:
Handrail: The handrail is what you place your hand on for support when walking up and down stairs. This is often shaped for a more ergonomic experience and can be made from many different materials.
Newel post: The newel post, or posts, will stand at the bottom and top of the staircase as a vertical structure, with the handrail running directly into it. These are usually made to match the handrail.
Shoe: The shoe of a staircase sits directly below the handrail atop the structure of the building. This is usually made from a complementary material to the rest of the banister structure. This is what the spindles are fixed into at the bottom.
Spindles: Spindles are the posts that keep you from falling through the space between the handrail and the shoe. They are made from a range of materials and can be swapped out for panes of glass or metal.
Another key part of a staircase's anatomy is something called the stringer – this sits on the opposite side to the banister, usually against a wall. Consisting of a fascia and capping, it follows the steps up and is almost like a staircase skirting board.
Some types of staircase designs won't incorporate all of these elements, such as floating staircases and other modern structures.
In order to find out more about your chosen staircase design and which parts you are going to incorporate, we recommend getting in touch with one of our expert engineers who will be able to walk you through the design process, talk to you about the different components you need, and provide some design inspiration.
Bespoke staircase design in London
At DDC, we provide a bespoke staircase design service to both businesses and individuals based in London and the southeast, providing architectural and engineering staircase services in Hampshire and specialist staircase design in Bicester.
Each of our expert engineers has decades of experience across a wide variety of different projects, which you can see for yourself in our portfolio. Alternatively, visit our social media channels for regular updates, or get in touch with us directly to discuss your project on 020 8004 9635 or at sales@ddclondon.co.uk.