Specialist staircase architects in Harrow, West London
Are you thinking about a new staircase or bespoke staircase for a residential or commercial property in Harrow, Wealdstone, or Hatch End? It is essential to find the right staircase specialists to work with. DDC London is a team of staircase designers who can design, construct, and install any type of staircase.
Expert in-house staircase designers in Harrow
Every element of your staircase will need to be carefully considered, including the aesthetic and structural implications. A chic and minimalist stainless steel staircase will suit a commercial property with a contemporary style, whereas a grand hallway in a home may require more traditional materials, such as timber.
Stairs are always one of the first elements you may notice when stepping through the door of a property. They serve an important role – to physically connect one floor to another – be it across two stories, a split level, or between inside and outside. They serve other important functions, including the way a property flows and how it feels. In smaller properties, they can create the feeling of space, scale, and volume. In larger properties, they can be a real design feature.
All staircase designs will consider (amongst other things):
Space
Material
Lighting
Balustrade design
Stair treads and risers
We aim to make the process of staircase design and build simple and economical. Please call our local staircase company now on 020 8004 9635.
Knowledgeable staircase designers near Wealdstone
Bespoke and luxury staircase design is at the heart of our work at DDC London. We can design, construct and install staircases throughout Wealdstone, Harrow, or Bushey. Because our focus is staircase design and staircase construction, we can offer you expert service at a fraction of the cost of employing an architect, alongside a truly personal service.
To keep costs down, we use a series of staircase design models that can then be tailored to your exact requirements, including:
Materials used (this can include glass and oak staircases, metal staircases, and other materials)
Additional balustrades and glass
Handrails
Number and depth of treads
RAL colours available for the treads
If your staircase renovation or replacement is part of a bigger design project, we can help and follow all rules set out by  ARB (Architects Registration Board) and RIBA (Royal Institute for British Architects).
Harrow staircase company: Choose your stairs
We can design a whole host of stairs in Harrow for different types of properties, including residential and commercial staircases, internal and external staircases, and luxury staircases. See some examples of our work.
Some staircase designs include:
Central spine: These stairs have a central spine running up through the middle of the stairs, supporting them, with open risers that offer the feeling of light and space. Often, they include a glass balustrade. Read our blog on the pros and cons of open tread staircases.
Floating stairs: Floating stairs or cantilevered stairs create the illusion that the stairs are suspended in mid-air and allow light to pass through them, also lending themselves to the feeling of space. These are ideal for new build properties because they require a strong load-bearing wall.
Zig zag stringer: Zig zag stairs have a 'folded' structure and create the shape of a zigzag line created by the continuous run of risers, treads, and stringers. These also offer a light and airy structure.
Start the stair design process in Harrow
We begin all our staircase projects in Harrow with a completely free consultation with one of our staircase designers. We can discuss your ideas and look at the space available. It is useful for us if you bring some images of how you think you would like your new staircase to look.
We encourage all our prospective clients to define their budget from the outset, as staircases will become more costly, the more customisations that are made. Our metal stair designs start from around £9000 but this will not include the cost of demolishing any existing stairs. We can show you what your new staircase will look like using accurate and innovative 3D rendering and this allows us to make any changes and show you different styles.
We design and build bespoke staircases in Harrow. Styles include:-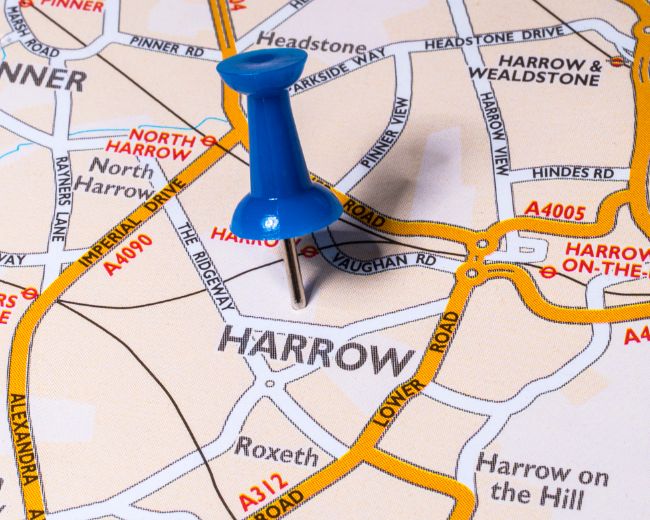 Made to measure staircases designed and installed in :-
Hatch End
Bushey
Stanmore
Whitchurch
Stanmore
To speak with our staircase architects in Harrow, call our stair makers now
To book a no-obligation stair design consultation, please call us now on 020 8004 9635 or email sales@ddclondon.co.uk