Staircases, although used by most people at least once a day, are not something that many people think about. When you purchase a new home or business building, you usually wouldn't pay much attention to the construction of the stairs, despite the amount of use they get.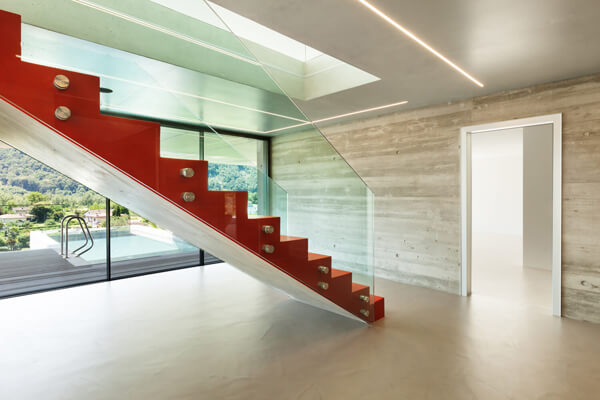 When it comes to the engineering of unique, bespoke staircases, structural safety is paramount. That's why our staircase experts at DDC London work closely with clients, architects, and structural engineers to get the right ratio of style and support.
What are cantilever stairs?
If you're looking to create a modern aesthetic throughout your home with clean, crisp lines and a minimalist appeal, a cantilevered staircase might be the perfect choice for you. Also known as 'floating stairs', a cantilevered staircase features an embedded metal structure that supports the treads and keeps things sturdy without ever being seen. This allows the staircase to take on a floating effect, and usually requires the stairs to be positioned next to a wall.
Cantilevered staircases can take the form of many different staircase styles, including straight, spiral, curved, dog-legged or helical, making them a versatile choice. They can also be constructed using a variety of materials, such as glass, metal, stone, and wood.
This ultimately means that you can be as creative as you like when it comes to designing your cantilevered staircase, or working with construction experts to bring your vision to life.
At DDC London, we put high-quality construction at the heart of everything we do, with unrivalled expertise in the areas of internal remodelling and qualified engineers on hand to assist with projects throughout the southeast, including the areas of Banbury and Windlesham.
How are cantilevered stairs made?
A straightforward cantilever staircase consists of a supporting structure fabricated from metal (usually steel), which is embedded into a wall. In the more complicated circumstances where the wall is only a partition/stud wall or in cases where there is no wall at all, the staircase will need to support itself, or be supported by other means, such as a structural glass wall.
Depending on your specific project and the aesthetic you want to achieve, your staircase engineer will be able to make different suggestions based on the layout and style of your home.
If you want to install a cantilever staircase in a position where there is no wall available to secure it to, you'll need to work with an expert staircase engineer who will be able to suggest creative solutions that work within your budget.
High-quality cantilever staircases in London
Looking for high-end staircases in London? DDC London works with both domestic and commercial clients to create stunning staircase solutions that will elevate your property's aesthetic. Specialising in bespoke staircases as well as pre-built models, DDC are the go-to choice for luxury staircases in London.
We work with qualified architects and engineers to create visually stunning cantilevered staircases – check out our wide range of projects for inspiration. To enquire about your own staircase or to get some expert advice, feel free to get in touch with us today.